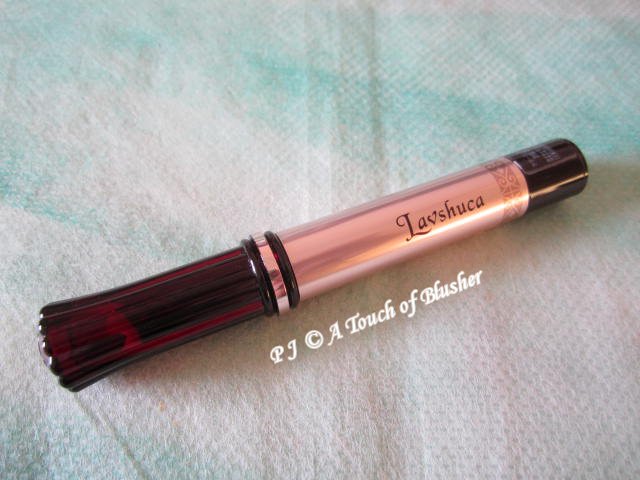 Today, in my Bring It Back series, I will be reminiscing about Lavshuca. Before I talk about the line's changes through the years since its launch in spring 2006, I will share my thoughts on Moist Melting Bar in RS-2, one of my last purchases from the line.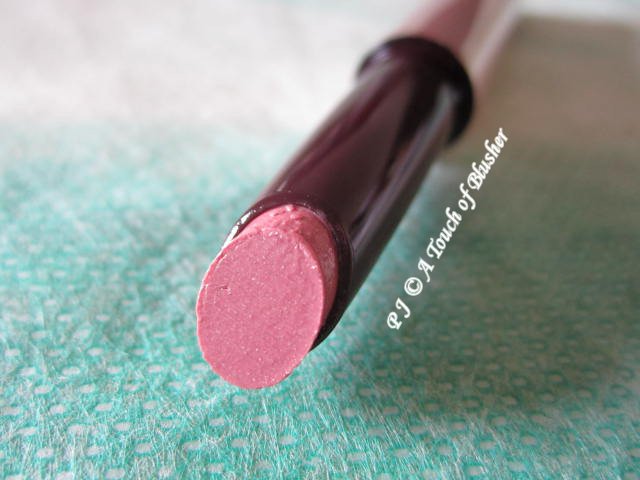 Kanebo Lavshuca Moist Melting Bar in RS-2 (カネボウ ラヴーシュカ モイストメルティングバー RS-2/ 佳麗寶 Lavshuca 緋晶蜜潤唇膏 RS-2, ¥1500) was released in Japan in summer 2010 (when the Moist Melting Bar range was launched). It is a light-to-medium mauve rose with a light-to-medium (towards medium) pigmentation level. It has a glossy finish with very fine multi-hued shimmer (which looks very subtle under some artificial lightings and is barely visible under natural light). It glides very well and feels moisturizing on the lips, and it looks smooth and even on the lips with no settling in vertical lip lines over the course of wear. It has a good staying power.
It goes on lighter and more mauve-y than it looks in the tube. I would prefer it to be slightly darker and slightly less mauve-y. (It looks relatively less mauve-y (by a very small degree) with a light-handed application.)
The slim design of the product makes applications easy, and I also like the look of the cap.
Even though this is not among my favorite lipstick colors, I am very pleased with its quality. (If you like how it melts and glides on the lips, I would recommend Dramatic Rouge from Maquillage. (Read my review of RS329 Rose Rendezvous.))
Lavshuca was launched in spring 2006, and it quickly became one of my favorite Japanese beauty lines. (Read my personal take on the line.) The line's packaging was modified in spring 2007, and plum started to be used as one of the main colors for product packaging. The line's spring 2007 makeup collection, which featured Eye Color Select (BR-1 here), Jewelry Lips and Gloss Stick, is, for me, still one of the most memorable seasonal makeup collections from a Japanese beauty line. The style of packaging, which successfully combined cuteness with elegance, helped make the line a hit.
The line had another two packaging renewals, one in fall 2012 and one in fall 2013. My impression is that neither of them was a success with fans of the line. For me, the new looks were too girlie and the elegance was gone. Sadly, the line was officially discontinued in December 2015 after its last seasonal makeup collection in summer 2014, and I have to say that I still miss the line a lot.
(Image overhauls are common with Japanese beauty brands, but I always wonder whether the line would still be available today if the new look from fall 2012 had not been so drastically different.)
At the moment, among Japanese drugstore beauty brands, I would say that the style of packaging of Kiss' products (since spring 2016) is fairly close to the feminine and elegant look that Lavshuca used to have (before the fall 2012 revamp). Also, in fall 2013, as Lavshuca went through another image renewal, Visée was transformed to feature a more feminine look (which the line had been experimenting with on and off for a couple of years) which somewhat resembled Lavshuca's pre-fall-2012 look. Moreover, both Sweets Sweets and Canmake have been moving towards more girlie and ornate looks in the last few years (since the releases of Shiny Dolce Shadow from Sweets Sweets in spring 2013 and Glow Fleur Cheeks from Canmake in fall 2013), and they remind me very slightly of Lavshuca during its debut year. (It is certainly interesting to look back and see that all these changes happened in 2013.)
Kiss, Visée, Sweets Sweets and Canmake all look appealing, but, to me, Lavshuca, which perhaps provokes some nostalgic sentiments, continues to be irreplaceable.
For old times' sake, here are all the other Lavshuca items I have written about:
Face Powder in Lucent (fall/winter 2006)
Cheek Color in PK-1 (summer 2007)
Eye Color Select in PU-2 (fall 2007)
Color Conc Rouge in PK-1 (fall 2007)
Winter Make Collection in 01 Berry Crème Framboise (holiday 2007)
Summer Gradually Compact in 01 Shiny Sandy Beach (summer 2008)
Finish Powders in Lucent & High Cover (spring/summer 2009)
Star Decoration Eyes in BR-1 (holiday 2010)
Pure Blossoming Eyes Limited Edition Set in 02 PU (summer 2012)
Lav Hearty Eyes in PK-1 (fall 2012)
Related posts:
Bring It Back: Shiseido Inoui ID
Stash Debut (21): Le Beran Mignon One Stroke Rouge in Milk Beige